FASCIAS, SOFFITS, GUTTERING
For all your Fascia, Soffit and Gutter needs, we can help…
Fascias, soffits, and guttering systems are vital to your property's roofing structure, performing crucial roles beyond aesthetics. At Northampton Roofing Services, we understand their importance and offer expert services to install, repair, and maintain these components, ensuring they remain in optimal condition to protect your property effectively.
Fascias:
The fascia is a long, straight board that runs along the roof's lower edge, fixed directly to the roof trusses. It is a protective barrier between the edges of your roof and the outdoor elements, shielding your home against water, wind, and potential damage from other weather conditions. It's also essential for supporting the guttering.
Fascias are also a significant aesthetic element of your home's exterior. Available in various styles and materials, they can be tailored to complement the overall look of your property.
Additionally, fascias prevent pests and wildlife from accessing your loft space, where they could cause damage. Therefore, maintaining your fascia boards is crucial not only for the aesthetic appeal of your home but also for the overall structural integrity and functionality of your property.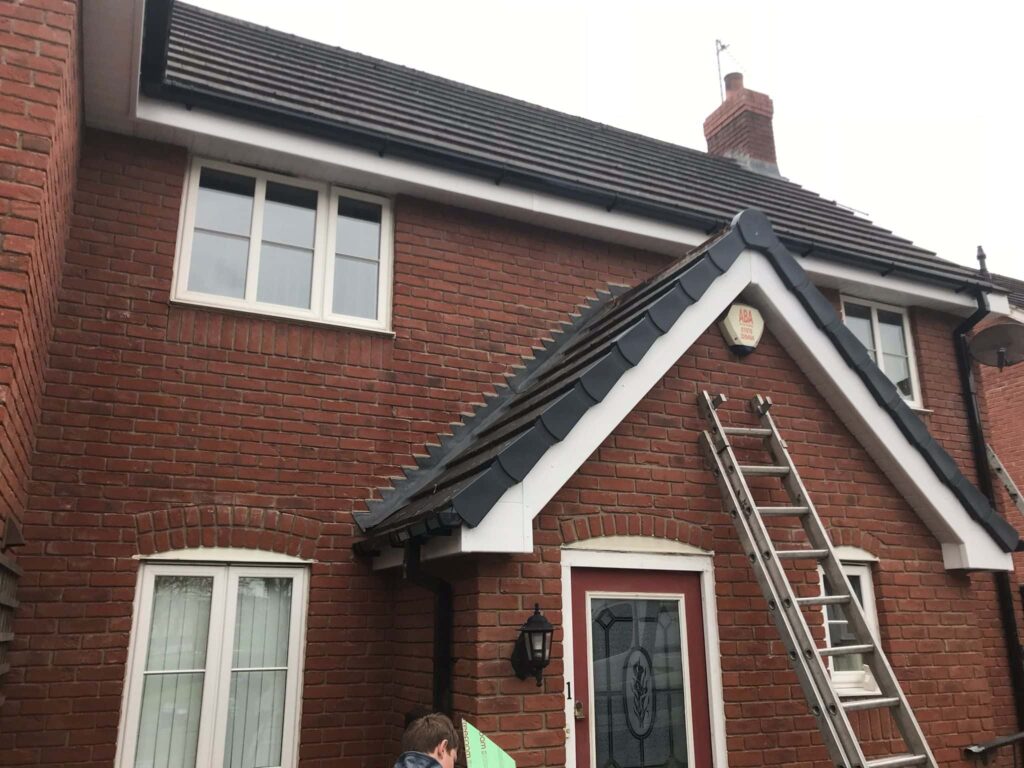 Soffits:
A soffit is the material that covers the area beneath the roof's overhang, sealing the gap between a properties wall and roof.
The primary role of soffits is to shield the rafters from weather damage. Exposure to a mixed climate could lead to structural issues such as dampness, mould, and rot. Therefore, soffits contribute significantly to preserving the rafters and potentially providing costly repairs.
Soffits also play a crucial part in ensuring proper loft ventilation, helping manage heat and humidity levels, a function particularly important during the summer and winter months.
In terms of aesthetics, soffits are available in a range of materials, styles, and colours, offering an opportunity to enhance your home's design, contributing to its overall visual appeal.
Furthermore, soffits assist in keeping pests out, providing an extra layer of protection for your home. Regular inspection and maintenance of your soffits are, therefore, fundamental for your property's overall upkeep and structural integrity.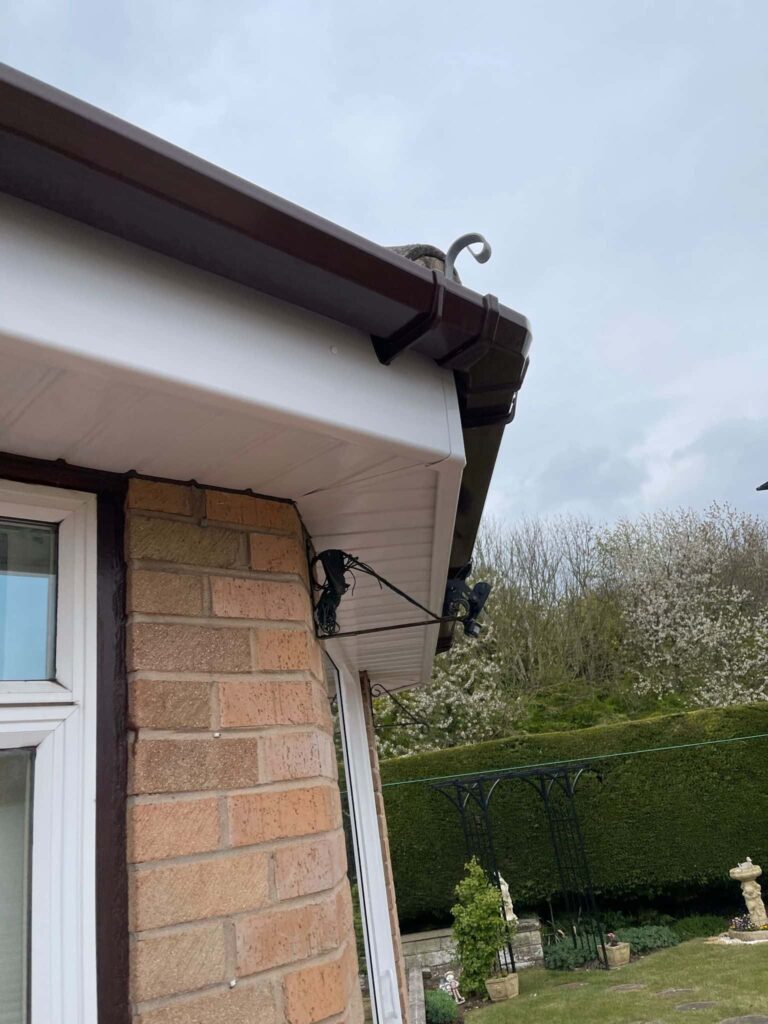 Guttering:
Guttering's primary function is to collect and divert rainwater away from your home, preventing water damage to the property's structure and foundation. An efficient guttering system is vital. When rainfall is frequent and often heavy it protects the property from dampness and flooding, which could otherwise lead to severe issues such as mould growth and structural damage.
Guttering systems are available in various materials, including uPVC, metal, and cast iron, each with its benefits. While uPVC is known for its durability and cost-effectiveness, metal and cast iron offer a traditional aesthetic often preferred in older or period properties.
Despite being practical in function, guttering can also contribute to the visual appeal of your home, with an array of styles and colours available to complement your property's exterior.
Given its importance, regular gutter maintenance, including cleaning and inspection for damage, is crucial to prevent blockages and ensure optimal performance, protecting your property for years to come.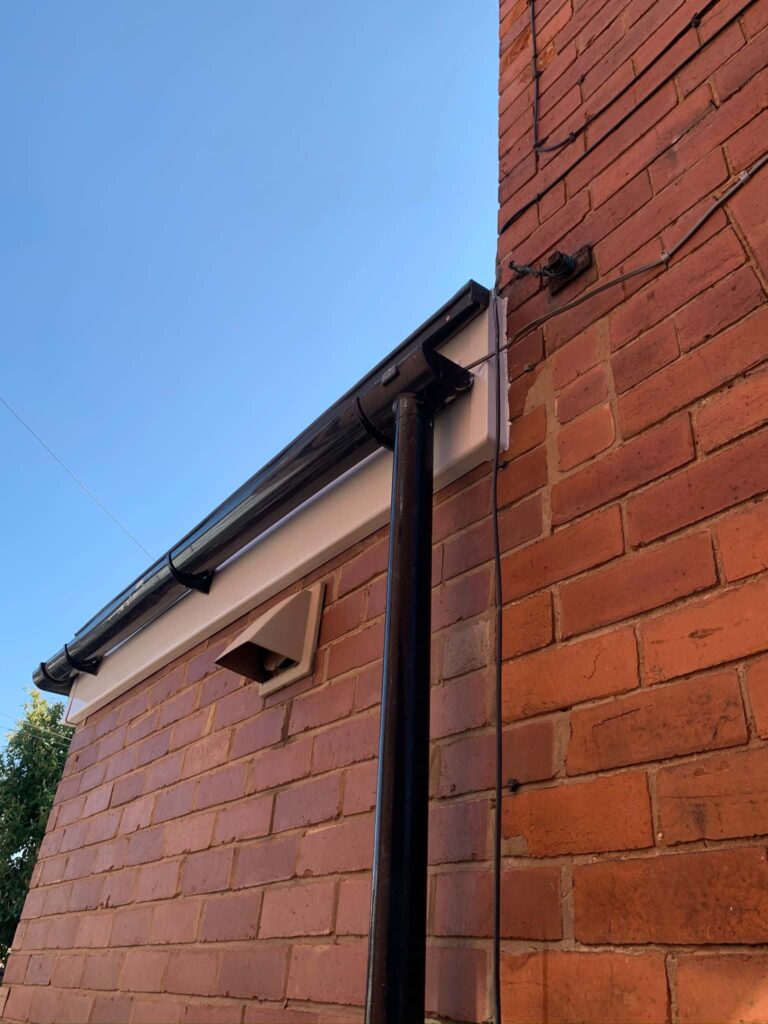 Our Installation, and Repair Service Fascia, Soffits and Guttering
At Northampton Roofing Services, we pride ourselves on our comprehensive range of services for fascias, soffits, and guttering systems. Whether you need a complete installation for a new build or renovation, or repair service for your existing structure, our team of skilled operatives can help.
Installation Services
We offer a complete installation service for fascia, soffits, and guttering systems. If you are planning a new build, looking into a roof replacement, or even looking to give your home a facelift, we can help with all your fascias, soffit and gutter needs. Upon carrying out a survey, we will be able to advise you on the different options available and ensure that the products we offer will be perfect for your needs and also visually enhance your property.
Repair Services
If your existing fascias, soffits, or gutters are damaged or not functioning as they should, we can promptly diagnose any issues, and ensure that a robust repair solution is executed swiftly and effectively.
Whether it's repairing minor damage or executing a complete system replacement, we are able to identify the root cause of the problem, provide an honest and thorough evaluation, and provide a repair plan that addresses both the visible and underlying issues. This meticulous approach allows us to deliver long-lasting solutions rather than quick fixes.
Why Choose Northampton Roofing Services?
Choosing a roofing company for your fascia, soffit and guttering needs is a decision that shouldn't be taken lightly. Here's why Northampton Roofing Services is the best choice for your needs:
Experienced Professionals:
With a team of highly trained and experienced roofing professionals, we deliver top-quality services every time. We're equipped with the knowledge and expertise to tackle any issues that you are experiencing with your fascias, soffits or guttering.
Quick Response Time:
We strive to respond to your call as quickly as possible, to ensure that your fascias, soffits or guttering needs are quickly taken care of. We'll always do our utmost to ensure we are available at a time that is suitable for you.
Comprehensive Repair Solutions:
We don't just address the symptoms of the problem – we get to the root cause. Our repair solutions are thorough and designed to prevent future issues, saving you time, stress, and money in the long run.
Quality Materials:
We use only the highest quality materials for all projects we undertake, ensuring the durability and longevity of our work. Whether we're replacing your facias, or changing your soffits, you can be sure you will be left with a quality installation.
Competitive Pricing:
We believe in providing high-quality services at fair and competitive prices. We'll provide a detailed quote for the required works, ensuring transparency and no hidden costs.
Excellent Customer Service:
From your first call to job completion, we always deliver excellent customer service, we are available to answer any questions you have before, during or after your work has been carried out.
Local Knowledge:
Being a local business, we always strive to purchase materials from other local businesses. Doing so not only helps them, but also ensures we can get some great deals, and in turn pass on any saving to our customers.
Fascia, Soffit and Gutter Repairs and Replacements Near Me
At Northampton Roofing Services, we believe in quality, professionalism, and customer satisfaction. Our team is here to provide quick, effective, and reliable solutions. With our focus on delivering superior quality services and exceptional customer experience, we're here to ensure your facias, soffits and gutters are in the best possible condition.
Along with taking care of your Fascias, soffits and gutters we also offer Roof Surveys if you require one, please reach out to us.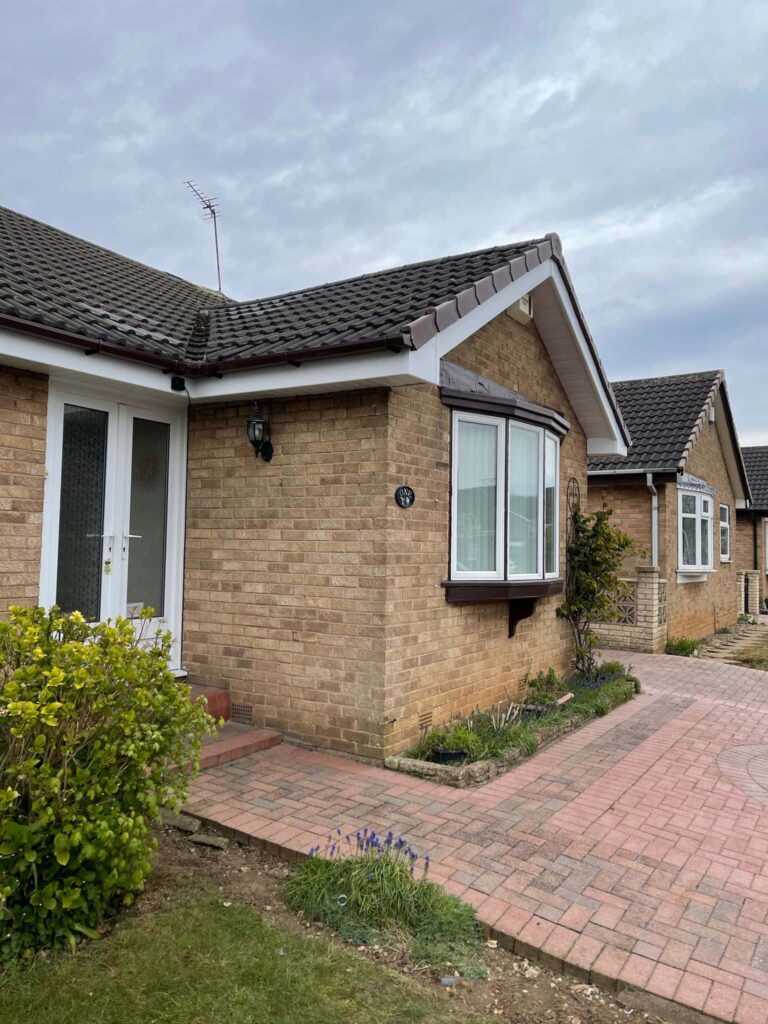 Please don't hesitate to Contact Us anytime. We will be happy to assist you.
We also work with other companies in the local area, and if you need a Tree Surgeon Northampton , we recommend this company.